See on Scoop.it – PHYSICAL SCIENCES BREAK 1.0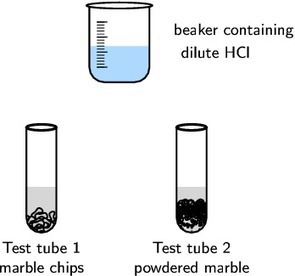 General experiment 2: Surface area and reaction rate
Marble (CaCO3) reacts with hydrochloric acid (HCl) to form calcium chloride, water and carbon dioxide gas according to the following equation:
CaCO3(s)+2HCl(ℓ) → CaCl2(s)+H2O(ℓ)+CO2(g)
Aim
To determine the effect of the surface area of reactants on the average rate of the reaction.
Apparatus
2 g marble chips, 2 g powdered marble, concentrated hydrochloric acid (HCl)
one beaker, two test tubes.
Chipa Thomas Maimela's insight:
Method
Warning:
Concentrated HCl can cause serious burns. We suggest using gloves and safety glasses whenever you work with an acid. Remember to add the acid to the water and handle with care.
Prepare a solution of hydrochloric acid in the beaker by adding 2 cm3 of the concentrated acid to 20 cm3 of water.
Place the marble chips into one test tube and the powdered marble into a separate test tube.
Add 10 cm3 of the dilute hydrochloric acid to each of the test tubes and observe the rate at which carbon dioxide gas (CO2) is produced (you should see bubbles of CO2).
Results
Note (write down) what you observe.
Questions and discussion
Which reaction proceeds faster?
Can you explain this?
Conclusion
The reaction with powdered marble is faster. The smaller the pieces of marble are (in this case the powdered form is smallest), the greater the surface area for the reaction to take place.
Only the molecules at the surface of the solid can react with the hydrochloric acid. The next layer of molecules can only react once the surface molecules have reacted. That is, the next layer of molecules becomes the surface.
The chips of marble are relatively large, so only a small percentage of the molecules are at the surface and can react initially. The powdered marble has much smaller solid pieces, so there are many more surface molecules exposed to the hydrochloric acid. The more molecules exposed on the surface (the greater the surface area) the faster the reaction will be.
See on everythingscience.co.za