See on Scoop.it – PHYSICAL SCIENCES BREAK 1.0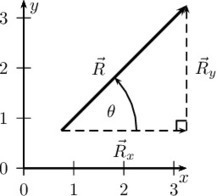 Any vector can be resolved into a horizontal and a vertical component. If R is a vector, then the horizontal component of R is R x and the vertical component is R y.
Chipa Thomas Maimela's insight:
A number of vectors acting together can be combined to give a single vector (the resultant). In much the same way a single vector can be broken down into a number of vectors which when added give that original vector. These vectors which sum to the original are called components of the original vector. The process of breaking a vector into its components is called resolving into components.
See on everythingscience.co.za